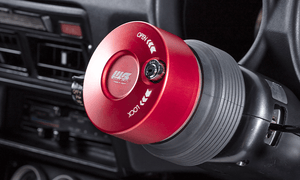 Add an extra step of security for your vehicle with the Rapfix Keylock System. It acts as a protective, locking cover for the Works Bell Rapfix2 when the hub is exposed.
There is also an optional accessory included with the lock to connect with the vehicle's alarm system. It is activated when the lock is engaged with the incorrect key or foreign object.
**The Works Bell Rapfix 2 is required to use this product**

The product includes one keylock body and two keys.

Installation is a similar style as attaching a wheel

Includes an electronic safety accessory for alarm

The surface is anodized for increased scratch protection
The unit may be hot under direct sunlight.