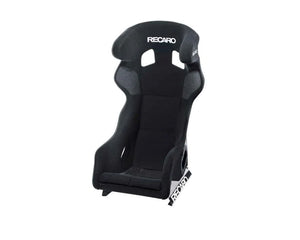 You only have to sit in a RECARO racing seat to "feel the difference". The design of the ground breaking RECARO Pro Racer is optimized to work with HANS systems. Over 50 years of RECARO racing seat technology and meticulous manufacturing expertise come together in the RECARO Pro Racer. RECARO developed the first racing seat with head protection in 1996. Improving racing safety is a continuous goal at RECARO.
The Pro Racer's ergonomic S shaped shell forms to the drivers back. The "built-in" lumbar support of RECARO racing seats provides structured support for the lower back that protects against spinal compression in high impact accidents. Combined with high quality shock absorbing foam the Pro Racer is outstandingly comfortable as it is safe. You will not want to get out of your RECARO Pro Racer seat. Gain the edge over the competition with the RECARO Pro Racer.
Features
FIA Certified and Crash Tested
Side Impact Neck Protection - developed and optimized in cooperation with HANS® to work with Head and Neck Safety systems for comfort and safety
RECARO Proprietary Ergonomics - S shaped backrest with "built -in" lumbar support
RECARO High Integrity Comfort Shell - Fiberglass
Aggressive Thigh & Torso Bolstering
Lumbar Cushions
Shock Absorbing Foam
RECARO Friction Grip at Shoulders
Screw Mounted Panels and Belt Slots
Flame Retardant Upholstery
Long Lasting High Quality Cover
High Quality Durable Foam
Suitable for 4, 5, or 6 Point Harness
Larger Height and Width than the Pro Racer SPG
Please Note: All Mounting Hardware is sold separately.