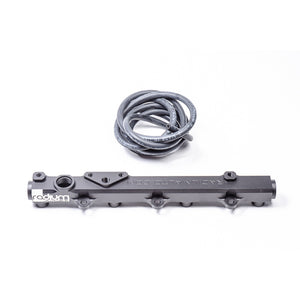 20-0591-02 Fuel Rail, S2000, 00-05
This basic setup does not include fittings. Replacement vacuum tubing is included to simplify and eliminate the hard lines.
This large bore fuel rail features a large 0.69" diameter internal bore. It uses all 5 OEM mounting bosses. The fuel rail is machined, anodized, and laser etched for a high quality surface finish.
It is compatible with all fuel types including popular alcohol mixtures such as E85. It is also designed to work with OEM fitment fuel injectors.
The factory fuel pressure regulator can be used or the port in that location can be used for a 1/8" NPT fuel pressure gauge, transducer, plug, etc.
This kit eliminates the OEM fuel rail cover and also replaces the air pump system hard tubes with vacuum hose for a cleaner appearance.