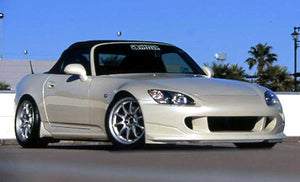 NOTE: Please Call or Email for current Amuse pricing.
Powerhouse Amuse R1 Front Bumper Spoiler for 1999-2003 Honda S2000 [AP1]
With its flawless, OEM-like design, Powerhouse Amuse's R1 Front Bumper Spoiler is probably the all-time most popular, most recognizable aero parts for the AP1 S2000. The Amuse R1 Front Bumper was actually designed by Gran Turismo creator and Polyphony Digital head Kazunori Yamauchi. As he personally owned an S2000, he felt comfortable creating a design that was a great match for the AP1's lines, without looking over the top.
The R1 Front Bumper also includes an integrated front under diffuser panel to improve aerodynamics, as well as bumper stiffness. The front bottom lip of the bumper cover was thoughtfully designed to work even on lowered cars to allow for sufficient ground clearance (with the car lowered about 2 inches / 5cm, there is still about 4inches / 10cm of clearance).
The R1 Front Bumper Spoiler is produced from high-quality Japanese FRP, and is delivered unpainted.