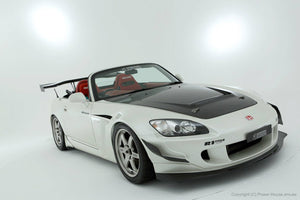 Please call/ Email about Amuse Pricing
The Legalo Face kit includes:
Replacement Front Bumper Cover with integrated Front Splitter and Diffuser panel
Front Canard Set
Wide Front Fender Set (25mm per side)
Available in either FRP or ultra-premium, ultra-lightweight honeycomb dry carbon fiber.
Despite production ending in 2009, the popularity of the Honda S2000 has continued on (and possibly even increased). Wanting to update the looks of the AP2, as well as provide a wider track for improved handling, Powerhouse Amuse released their "Legalo Face" kit in 2012. The Legalo Face kit is designed to be a more-aggressive, yet still fairly OEM-styled front end conversion for the AP1 and AP2 S2000.