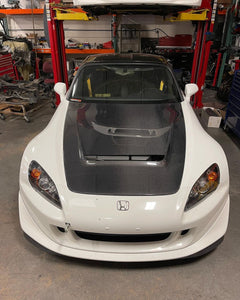 Preorder, we have one coming in a few months, reserve yours today!
Powerhouse Amuse (Now R1 Titan) offers their lightweight vented cooling bonnet for the AP1 / AP2 S2000, which not only improves cooling, but dramatically reduces the weight of the vehicle
.
Carbon bonnet for S2000 AP1 / AP2.

The front side of the bonnet is carbon and the back side is FRP, so the genuine catch can be used as it is.
A model that has both ducts that can be used on the street and heat dissipation.
* It can be used up to about 1 minute flat in Tsukuba without any problem, but if the top speed increases due to major modifications, please use a separate bonpin.