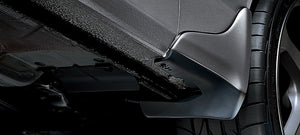 What we have in stock is all that is left.
The S2000 debuted in 1999 and ended its history in 2009. Even after more than 20 years since its debut, the S2000 has been owned by many owners with deep affection. Honda Access has newly developed genuine Honda products based on the 20th year anniversary in order to respond to the owner's feelings and continue to drive together. By pouring in all of the technology cultivated over the last 20 years, we refined the cornering performance, one of the real pleasures of operating the S2000.

Excess air flow drawn into the rear tire house is escaped, reducing air resistance. It consists of a strake that is installed under the floor in front of the rear tire house and an aero plate that is installed inside the area that is invisible to the eyes. Excellent aerodynamic performance can be obtained by installing the front aero bumper and trunk spoiler duck tail type at the same time.