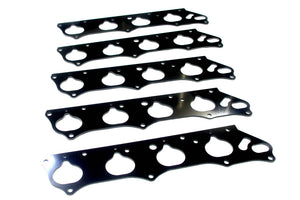 By installing an intake gasket that uses a heat-resistant resin 3mm thick material between the intake port and intake manifold of the engine body, you can expect a 3-5% improvement in power by lowering the intake temperature!
Cylinder head It blocks the heat transferred from the intake manifold to the intake manifold and prevents the metal intake manifold from becoming a heat sink. 
As a result, it is possible to prevent the temperature at which the intake air is filled into the cylinder from rising and improve the filling efficiency. 
Lowering the intake air temperature leads to a 3-5% power-up. 
Two genuine gaskets are required for installation.