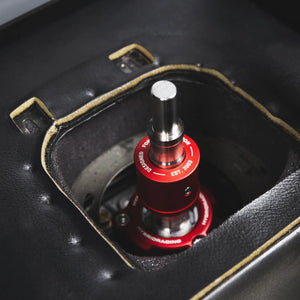 https://youtu.be/3uf6mDDGmL0

Why We Improve.  
The Honda S2000 is one of the most remarkable cars ever produced and is certainly a future classic. We also know how particular S2000 owners are and understand how critical it is to have a part that gets it right. 

Years ago, we set out to design a short shifter for the Honda S2000 and were faced with the question… how can we make one of the best-feeling shifters better? The answer lies somewhere between a full-blown racing product and a shifter enthusiast drivers can enjoy.  

Everyone has an opinion on what makes a shifter great. It must be tight, direct, easy to move, and inspire confidence when banging through gears. Understanding what gear is engaged is critical, and Honda engineers know what they are doing. However, many S2000s have been driven and or raced… a lot. 

The factory shifter's parts will loosen and degrade over time as a wear item. That degradation presents itself as a loose, wobbly shifter that isn't as sharp or consistent as it once was.  

How To Make Great, Better? 
We approached this project with an open mind and a blank sheet of paper. By understanding how the OEM shifter assembly functions, we tested different materials and shapes of the main shifter shaft. We then designed a completely new main cup section machined from durable PTFE. This incredibly durable material allows the shifter ball to slide freely while withstanding high temperatures. 

The lower section proved to be the most challenging part as it is connected directly to the transmission shift rods & forks. After many tests and trials, we developed an innovative solution that combines different materials to dampen and reduce unwanted noise and vibrations. Our proprietary VDC lower cup improves the overall feel and prevents the shifter from transmitting extreme forms of NVH into the cabin. 

Our 3D CNC machining processes ensure these parts are created to exact tolerances and are designed to work together. We include high-quality high-temperature grease, which plays a vital role in the overall smoothness of this product. 

Race Inspired – Street Styled 
Whether you are competing in a car show or a timed track event, this shifter excels. The high-quality anodized finish will keep this shifter looking good for a long time. The adjustability allows the driver to dial in the proper location. 

Like all Hybrid Racing shifters, you can rotate the shift knob 360* to work great with left and right-hand drive cars. You can raise the shift knob to 12mm taller than a stock knob to bring it closer to the steering wheel. A considerable benefit of our design is the ability to keep a short shift while moving and raising the knob. 

If you like to run a tall shift knob but wish to keep the throw the same, this is a great option. It is also compatible with our best-selling Competition Shift Rod, a favorite among performance drivers. 

With its superior construction, adjustability, and unmatched performance, our shifter has raised the standard.