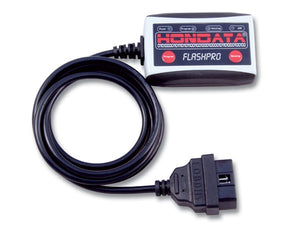 FREE SHIPPING INCLUDED! (lower 48 states only)
NOT FOR SALE IN CALIFORNIA
The FlashPro allows full user tuning and datalogging of drive by wire S2000s. It includes Windows based software called FlashProManager. The FlashPro connects from your laptop's USB port to your vehicles diagnostic port to provide 90 second programming with a variety of calibrations with extensive real time and stored datalogging capabilities.
FlashPro features:
- Programmable ECU interface.
- Connects via OBDII diagnostic port.
- USB 2.0 connection
- Works with Laptop or Desktop
- No ECU modification necessary.
- 90 second ECU programming time.
- 20 hours on board datalogging memory.
- FlashProManager Windows software.
- Check and clear diagnostic codes.
- Customizable laptop gauges.
- Readiness codes and smog check status.
- Dual calibration storage - upload from one of two calibrations stored in the FlashPro
2006+ S2000 tuning features:
- Ignition, fuel, idle speed, table editing.
- VTEC window.
- Rev and launch limiters.
- Map tracing & lambda overlay.
- Expanded fuel, ignition & cam angle tables for forced induction. - 4 bar MAP sensor support (40 psi).
- Support for larger injectors.
- Injector latency / dead time.
- Individual cylinder fuel & ignition trim.