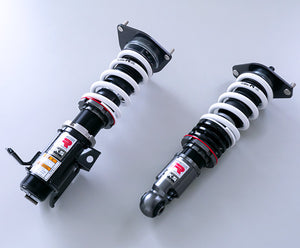 Specifications
Spring Rate: Front = 9k / Rear = 10k
Vehicle Height (Highest - Lowest)

- FRONT: -28mm (0mm to -45mm)

- REAR: -33mm (0mm to -59mm)
The HIPERMAX R Series has made significant improvements to the handling, traction, and fitment of the Hipermax lineup by manifesting the cumulative, technological advancements over the past nine years since the initial debut of the Hipermax IV SP.
HIPERMAX R Exclusive Features



Super Response Fluid (SRF)
HKS utilizes a high-viscosity oil in its shock that has been developed to be highly resistant to heat sagging. With this fluid, the coilover achieves great stability, great handling, and excellent damping.

Low Vibration Spring (LVS)
With a brand new design found exclusively within the Hipermax R series, HKS utilizes a low vibration spring (LVS) for a smoother riding experience and superb response to the road. The spring aims to achieve an amazing, sporty driving experience.

Spring Retainer
At the top of the spring is a retainer to aid in eliminating sideward forces and lower friction in the spring within the whole coil. 
HIPERMAX Core Features
Dual PVS: Dual Preload Valve System
The Hipermax R's features the "Dual Preload Valve System" that is found in the HIPERMAX S.

WR Needle: Wide range damping force adjustment mechanism
.The coil offers up to 30 steps of adjustment for a fine tunable driving experience. Owners can opt for a softer level adjustment to make street driving a more comfortable experience.

ADVANCED BUMP RUBBER
The Hipermax R's also utilizes the same advanced bump rubber that are found in the Hipermax S series. The shape of the rubber aims for an early bump touch, gradually damping the load and suppressing abrupt changes in movement.

Single Tube System
The "Single Tube System"separates the gas and oil chambers by utilizing a singular, large piston. This in turn creates a high quality and stable damping force.
Inverted Type Damper for Strut Type
Firm rigidity against stress has been achieved. It works to the advantage of various performances when driving, and provides excellent handling and ride comfort.

PNE Coating
PNE Coating's corrosion resistance is 5 times as much as the galvanization's. This coating can protect against rust, and its smooth surface requires less force to adjust the ride height than conventional dampers.

Pillow Upper Mount
The rubber "Pillow Upper Mount" eliminates any unnecessary movement in order to achieve precise and sharper handling.
**These are sold as a set of four (4)**