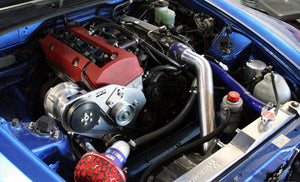 Note: NOT CARB Legal - This product is not currently CARB exempt and is not available for purchase in California & CARB States or for use on any vehicle registered with the California Department of Motor Vehicles.
The highly anticipated HKS GT2 Supercharger Kit is now available for the Honda S2000. This is the same supercharger kit used on the our very own Formula S, Son Vo's Time Attack S2000. Out of the box, the HKS GT Supercharger Kit produced 310.33 whp and 212.77 tq at approximately 10 psi. HKS feels that this will be suitable for a reliable daily driving setup. The HKS kit provides consistent horsepower and torque gains throughout the powerband, and most impressively, mid-range, which often drops on the S2000.
Includes the following parts:
- GTS7040 Supercharger Unit
- Traction Fluid Filter
- Traction Fluid Tank
- Traction Fluid
- Traction Fluid Cooler
- Idler Pulley (x2)
- Crank Pulley
- Supercharger Crank Pulley
- Supercharger Unit 120mm Pulley
- Belt
- Intercooler
- Relieve Valve Assembly
- Air Filter with Suction Pipe
- Intercooler with Piping
- All hardware and hosing required for installation
Engine Management System (EMS):
2006+ Models
The Pro Kit does NOT include EMS. We offer optional EMS systems based on the year of your S2000. For 2006+ models, HKS recommends using Hondata Flashpro. If you already have a Hondata FlashPro, you can either download Hondata's base MAP for the HKS GT Superchager Pro Kit for free, or purchase the FlashPro with the kit and load it thereafter.
2000-2005 Models
For 2000-2005 models, you may use Hondata K-Pro (complete ecu with wiring harness), or AEM EMS Series 2. These EMS options for the 2000-2005 models DOES NOT come pre-MAPs. You must get a custom tune when using with the HKS GT Supercharger Pro Kit. We recommend that you visit an experienced tuner who's familiar with these systems.