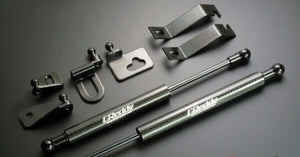 Spice up your engine bay with GReddy's Engine Hood Lifter for the second-gen GR86/BRZ.
GReddy designed their hood dampeners to be made with real, genuine carbon for increased strength and rigidity when propping the hood. The dampener's utilizes a ball and cup joint system for smooth articulation and operation.
*The dampener's design focuses on operation with a genuine factory hood. If you plan to use this for aftermarket hoods, modifications may be necessary for proper operation.
**The strength of the dampener also revolves around the weight of a factory hood. Some "carbon fiber" hoods may or may not be heavier than the factory hood. Please do your research before purchasing and installing.