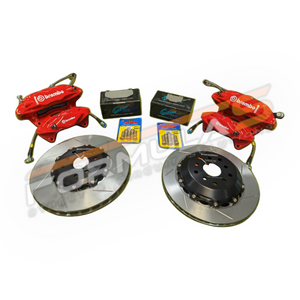 A full, complete OEM Brembo big brake kit for the Toyota 86 / Subaru BRZ. All parts included in this kit are BRAND NEW AND AUTHENTIC.
These Brembo calipers were originally designed for the first generation Subaru BRZ and were only offered by Subaru dealerships as a "Performance Package" add-on. 
This is a 48-piece kit meticulously assembled and pieced together for a complete brake overhaul with enthusiasts in mind. It will have everything you need to fully upgrade your brake system to a complete big brake kit. This includes full brake assemblies for both front and rear; from the calipers, down to the hardware. It will include Stoptech Stainless Steel brake lines as well as Project Mu CR pads.
Each kit includes the following:
Brembo calipers (Front)
Brembo Calipers (Rear)
Project Mu Club Racer Pads (Front and Rear)
Stoptech Stainless Steel Brake Lines (Front and Rear)
Brake Dust Shields (Front and Rear)
Pad Clip
Caliper Pins
Tie Bar
Bolts
Slide Pin Clip
Rear caliper bolt
Rear caliper guide pin
Titanium Shims