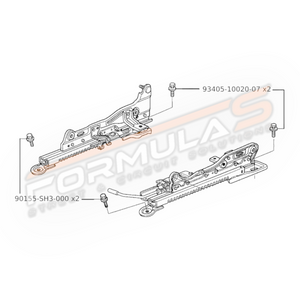 Make sure your seat and rails are bolted down with the correct hardware with our Genuine OEM Honda S2000 Seat Hardware Kit.
Each 4-piece kit includes all the bolts necessary to bolt your seat or seat rails to the floorboard safely.
90155-SH3-000 x2

93405-1002007 x2
This kit supplements enough hardware to cover one side. If you need to exchange both sides, then make sure to add two kits into your cart during checkout!
All parts under the "OEM Parts" category of our website are genuine factory parts from their respective companies.