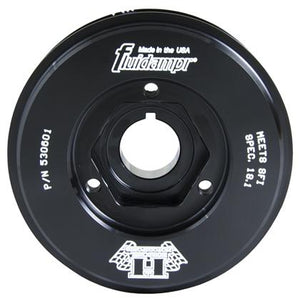 A Fluidampr performance damper provides premium, long lasting protection from damaging torsional vibrations when engine upgrades are made. By controlling all torsional vibrations throughout your rpm range, Fluidampr improves performance, reduces wear of critical engine components and reduces the risk of crank failure. Fluidampr's viscous silicone damper technology features cnc machined and computer balanced high-grade steel components and is finished with a brilliant black zinc chromate. Accepts OEM style crankshaft pulley tool for easy installation. Stock size pulley does not overdrive/underdrive accessories. No tuning or maintenance is required. SFI 18.1 approved. Made in USA. ISO 9001:2008 certified.

Destructive crankshaft torsional vibration, a common effect of performance parts upgrades, accelerates the wear of critical engine components. Honda S2000 owners can now protect their engine, while gaining power, with this latest performance damper.

Engineered and tested in conjuction with world renowned Honda race engine developers, the damper is an easy bolt-on upgrade for the F20C and F22C engines. Controlled testing on a mildly tuned F22C engine utilizing a Superflow water brake engine dynamometer, at a rate of 1000rpm per 2 seconds, resulted in an average 9.1hp and 8.2lb-ft gains at the crank over the stock harmonic balancer. In addition, it also indicated an average 5.2hp and 4.2lb-ft gain over the leading custom built performance o-ring damper. Controlled pulls allow torsional vibrations to stack up and provide a more accurate test result of a damper's ability to protect.
| | |
| --- | --- |
| BRAND: | Fluidampr |
| MPN: | 530601 |