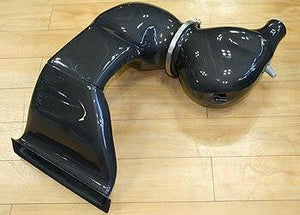 Special Order
Wet Carbon construction. Fits all S2000 model years.

This is an air cleaner kit for S2000 that was developed jointly with Gruppe M, an air cleaner specialist. Low-to-mid range torque can be increased, by drawing air into the air intake chamber. The transition in to the higher RPM range is smoother due to the unique shape of the chamber. Because the air intake duct is located near the area of the front license plate, an increase in power can be achieved by the continuous amount of intake air flow filling the air box. It is recommended that the duct be removed during rain. 

Cutting of the OEM hood is required.