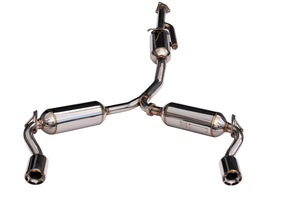 *FREE SHIPPING
Special order, Call for availability
Fits 2000-2009 S2000 model years. 
Available in Stainless steel (13.7kg) and titanium (10.7kg).

The long awaited I.S. Design dual exhaust system for the S2000. Based on the latest know-how gained from the I.S. Design Siren Circuit design, it also does not use any resonated baffling material in the mufflers. The engine note is strictly silenced by cancelling out and tuning the harmonic frequencies of the exhaust. This leads to a very finely tuned sound that is extremely quiet at low rpm and cruising while opening up as the RPMs increase. Specifically tuned for AP2 2.2L engine harmonics, the silencer kit has a very quiet and mild sound similar to the Mugen exhaust system. The volume is not significant when cruising below 3500 rpm with no bass or droning sounds of any kind. Between 3800 and 7500 rpm, the sound is full and complements the engine tone. As you rev through the rpm range there is a clean screaming sound with a burst at VTEC.
Weighs 13.7kg and features a φ60.5 to dual φ48.6 piping.