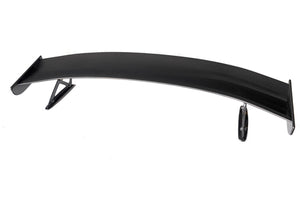 Special order, Call for availability
Fits all S2000 model years. Dry Carbon construction.

Includes mainplane, mounting legs, end plates, and all required hardware.

Utilizes dry carbon for entire product for minimum weight possible. Designed to minimize air resistance and provide optimal aerodynamic balance in front and rear. Main section of the spoiler is a 5 atmosphere autoclave formation while the attachments parts are 3 atmosphere autoclave formations. 1390mm width.

Note: Dry Carbon items come pre-prepped for paint. There is NO clear coat on them so it is recommended that they need to be cleared or painted.

ASM Dry Carbon and Fiberglass products are designed and produced at the Challenge Technology Center in Japan. They are produced with the same approach to dry carbon products as OEM to many major japanese car manufacturers using pre-impregnated carbon materials. Design and production involve the use of CAD modeling, cutting plotters, 5-axis 3-D mills, high-pressure autoclaves, and water mills.