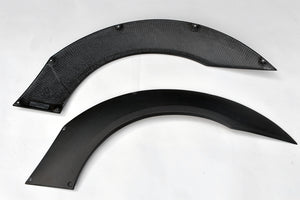 If you can order this item, it is in stock.
FRP Construction. Also available in Dry Carbon. Fits all S2000 model years.

Increases fender width by 25mm. Requires cutting of the rear quarter panel for maximum clearance. Developed for vehicles with wide rims, but maintains the classic design of the S2000. The body needs to be modified when for installation, therefore our recommendation is to cut part of the fender, spot-weld the cut area to reinforce it, and fill in the space between the body and fender with urethane foam. Professional installation highly recommended.

NEW FOR 2010!
ASM has decided to redesign and rebuild the mold for their rear over fenders from scratch. The overall shape is the same but the top edges that contact the fender are now folded over instead of cut so there is a flat surface on both sides so the seam between the over fender and the fender can be sealed shut with tape or glue. They couldn't simply "add" material to the original mold so it needed to be rebuilt again also for a refreshed mold. The newer design also improves the structure and rigidity of the rear over fender to prevent warping over time and ensure a perfect fit every time.

ASM Dry Carbon and Fiberglass products are designed and produced at the Challenge Technology Center in Japan. They are produced with the same approach to dry carbon products as OEM to many major Japanese car manufacturers using pre-impregnated carbon materials. Design and production involve the use of CAD modeling, cutting plotters, 5-axis 3-D mills, high-pressure autoclaves, and water mills.