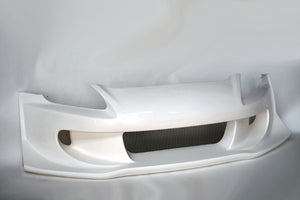 Special order, Call for availability
Fits all S2000 model years.
Available in FRP and dry carbon.
Made in Japan.

Designed based on extensive testing at Tsukuba Circuit, the ASM I.S. Design Front Aero Bumper IS-11 is the FRP version of the ASM I.S. Design Front Aero Bumper GT-10. It incorporates a larger front lip for additional front end downforce. The overall length of the bumper is increased by 30mm further enhance downforce. The integration of the lip reduces the need to additional attachment hardware for maximum weight savings. The radiator opening is also widened for additional cooling effect. The leading edge of the front lip is sharpened for additional airflow under the car and into the front opening. Design specifically to match the the wide Front Aero Fender -04, the bumper flow air smoothly over the front fenders for better aerodynamics.

ASM Dry Carbon and Fiberglass products are designed and produced at the Challenge Technology Center in Japan. They are produced with the same approach to dry carbon products as OEM to many major japanese car manufacturers using pre-impregnated carbon materials. Design and production involve the use of CAD modeling, cutting plotters, 5-axis 3-D mills, high-pressure autoclaves, and water mills.