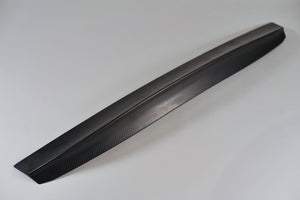 Special order, Call for availability

FRP Construction. Also available in dry carbon. Fits all model year S2000.
Attaches to the rear end of the trunk lid. Improves rear end aerodynamic stability.

ASM Dry Carbon and Fiberglass products are designed and produced at the Challenge Technology Center in Japan. They are produced with the same approach to dry carbon products as OEM to many major japanese car manufacturers using pre-impregnated carbon materials. Design and production involve the use of CAD modeling, cutting plotters, 5-axis 3-D mills, high-pressure autoclaves, and water mills.