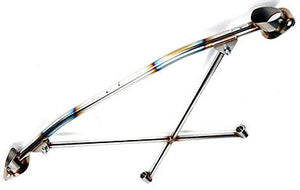 Select from:
Standard Version: Fits all standard S2000 model years.
Short Version: Fits all S2000 model years with 20mm Bump Steer Bracket (Steering Rack Spacer).

Stainless Steel construction, the ASM GT tower bar is made for people who enjoy driving and wish to experience the vehicle's actual driving performance. This product was developed with a focus on the quality of the materials and the production process. Unlike a normal tower bar, a truss connects the subframe and tower bar so that the front section can be strengthened as well. As a result, braking and steering response are improved when entering a corner and the driver's vehicle control will be improved as well.