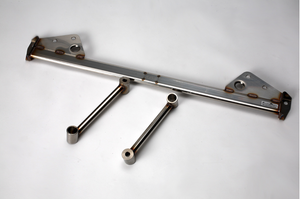 Goes beyond conventional thought of stiffening the frame and subframe independently and was designed to attach to the frame, subframe, and steering rack. It is a simple design but the increase of handling performance has been tremendous, especially in S corners and tight sequential corners. 

Can be used with the Front Lower Arm Bar and many other subframe bars. Main bar attaches to the rear of the front lower subframe while the 2 smaller bars bind the steering rack to the sway bar brackets. For complete front end reinforcement, use with the GT Front Tower Bar.
-Short version fits all S2000 model years with 20mm Bump Steer Bracket (Steering Rack Spacer).