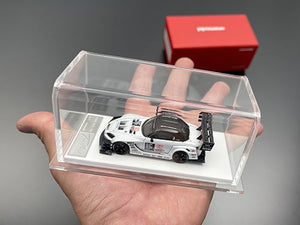 This is a model of  "S2000RR"
 TOP FUEL x VOLTEX that participated in the WTAC held in Australia and repeatedly set tuning car course records at domestic circuits .
1/64 mini type.
Palm size and very cute.
There is also a large 1/18 type.
The manufacturer is Hong Kong's famous model car "ONE MODEL"
.  Although it is a small 1/64 model, it is very elaborately reproduced.
Comes with an acrylic display case that can be opened and closed.
●Product size (mm)
・Display case: 117 x 61 x 55
・Body size: 72 x 32 x 20
*Actual measurements. There may be some errors.