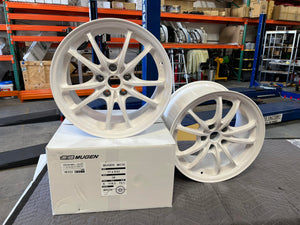 FOR A SET of 4 wheels
Inspired from the classic competition-grade wheel "MF", the reborn new casting aluminum wheel "MC10" and "MC10L" combine the visual experience with the design style of the MUGEN body to meet the high-intensity requirements of track competition. The MC series feature an anti-skid offset Flange design to improve tire adhesion, and a radial-angle ring body that adds support to large-size brake spoke design.

"MC10" is made by spinning manufacturing process, and "MC10L" is specially processed to achieve a perfect balance between light weight and high rigidity.